Publications – ATLANTA CHRISTIAN BUSINESS DIRECTORY
Advertising and Marketing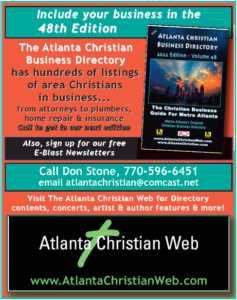 ATLANTA CHRISTIAN BUSINESS DIRECTORY
Atlanta's Oldest And Once Again, the area's ONLY Published Christian Business Guide.
Since 1985. Our 49th edition is due out soon.
770-596-6451
Everything from accountants and attorneys to auto repair and plumbers.
Make a statement that your company is based on Christian principles and reach
loyal faith based families all over metro Atlanta.
Special advertising rates for Atlanta Christian Web visitors.
Options to advertise in the published booklet or only on this website...
See The Current Published 48th Edition of the Atlanta Christian Business Directory
Page By Page Online - Click Here